NHADA Board Members can utilize their member portal for board meeting information and important documents
Activating your account:
Check for an account activation email in your inbox, it should look like the image below:
If you cannot find this email please visit the login screen and contact the website administrator.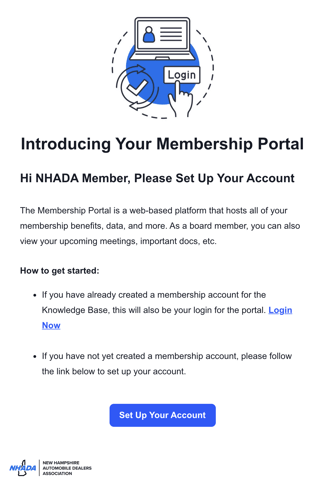 Click the "Set Up Your Account" button to set up your account: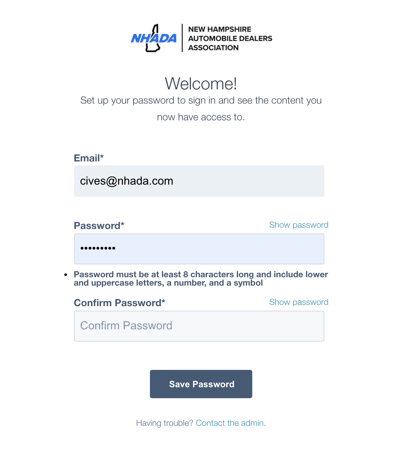 Set up a password (the email field is not editable) and click save, you will then log in.
Using the member portal: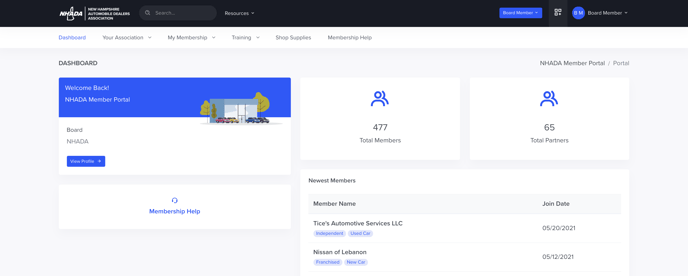 Once you log in, you will be brought to a dashboard with several options, one of which is the "Board Member" dropdown located at the top right corner of your browser.


Click that for the following options:
Upcoming Meetings
Board Directory
Using the upcoming meetings screen:

Upcoming meetings are listed on the upcoming tab; previous meetings are viewable accordingly. Each meeting will be tagged with the corresponding board and documents will be available for viewing prior to the meeting.


Special meeting information will be available below the date of the meeting:
This will be used to provide the meeting location, time, etc. If the meeting is virtual, the zoom information will also be available here.

If you have any questions regarding the membership portal or setting up your account, please contact Chandler Ives at cives@nhada.com