NCC Automotive student earns $7,500 in scholarships and is awarded a complete tool kit from the Granite Foundation in recognition of his hard work.
NASHUA – Nashua Community College (NCC) freshman Jose Avalos graduated high school during a tumultuous spring that was disrupted by the global pandemic. That didn't stop him from earning $7,500 for college before receiving his high school diploma and now a complete tool kit in his first semester at NCC.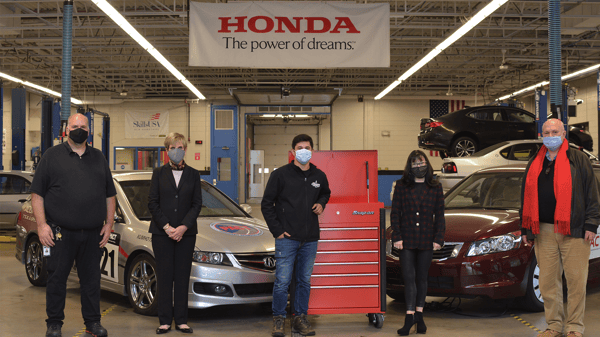 From Left: Jason Felton, Lucille Jordan, Jose Avalos, Jessica Dade, Pecco Beaufays
When Jose was a senior at Nashua North HS, he received $7,500 in scholarships from the New Hampshire Automobile Dealers Association (NHADA) Education Foundation. He earned most of the scholarship when his team placed first the New Hampshire Automotive Competition. Unfortunately, the team did not get a chance to compete at the National Automotive Competition as it was canceled due to COVID-19.
"The competition was a series of stations where you had to diagnose problems on cars and fill out a repair order. It's a very hands-on competition and I really enjoyed it," said Jose. "I've always liked working with my hands and frequently helped my dad do oil changes and minor maintenance on cars at home." While at Nashua High School North, the Career and Technical Education courses invigorated his interest in the field. "During my junior year at high school, I started with the auto program at Nashua North and that really got me involved in automotive."
The NHADA scholarship he earned can be applied to one of the seven institutions of the Community College System of New Hampshire, including NCC. Know any students who may be eligible? Direct them to the NHADA Education Foundation scholarship website.
Now at NCC, Jose is progressing through his automotive technology associate degree with a combination of online learning and hands-on lab experiences. "He's a really good student, he does his work and gets great grades on everything,"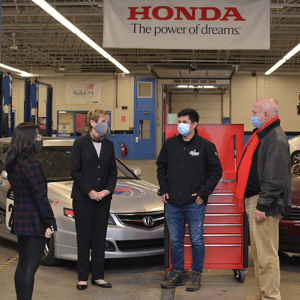 said Tim Hogan, automotive technology program coordinator and Jose's lab professor. Beyond working hard in class, all automotive students need a comprehensive tool kit to be successful.
"Upon reviewing his needs, the Granite Foundation approved a $4,700 scholarship to be used towards Snap-On tool purchase. The industry needs more students like him in the field and this will help him grow," said Jessica Dade, Executive Director of NHADA Education Foundation.
The Granite Foundation strives to build productive relationships and promote hands-on training and educational opportunities for students through a community-based infrastructure that will build and facilitate future employment. We support our New Hampshire students for tomorrow's workforce.
"Tools are a big upfront cost so this scholarship really helps out. Additionally, when you're working in a shop, you have to have your own tools, so I'm very thankful for this scholarship," said Jose.
"Jose is a first-generation college student in his family and NHADA Education Foundation has partnered with the Granite Foundation to further support students like him to grow their future in the Automotive Industry," said Dade.
Learn more about the NHADA Education Foundation and Granite Foundation and how you or a student can get involved and access benefits.